Garden Room / Garden Office
For extra space all year round be it for work or leisure – choose a Garden Room
With an elegantly simple design our Prestige Garden Room offers a space for work or play. Intended for use all year round. Built using a combination of timber frame panel technology with highly efficient insulation, combined with the finest quality carefully selected materials.
Navigation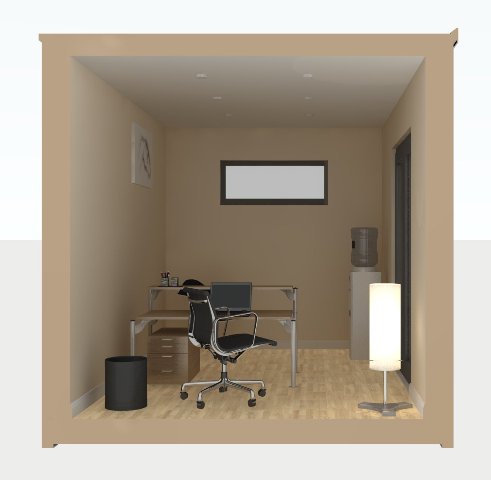 Steel Beam Foundation
Galvanised steel beams sitting on concrete pad stones raise the garden room above ground level.
Structure
Timber frame wall, floor and roof panels provide the basis of the structure.
Insulation
We only use high grade fibre insulation so you can use the space all year round
Cladding
First quality Siberian Larch cladding provides a elegant durable finish that will last for decades.
Roof
EPDM roof membrane with a life expectancy in excess of 35 years if fully adhered to the substrate with adhesive bond. A black PVC kerb and drip sytem trim the edge of the roof.
PVC Window & Door
High specification window and door in black PVC
Plastered Interior
Smooth skim coat plaster finish over foil backed plasterboard to walls and ceiling leaves the surface ready for painting
PVC Gutter and Downpipe
Black PVC gutter and down pipe fitted
Skirting Board
White prefinished skirting board trimming at floor
Electrical Installation Lights and sockets
As standard comes with 2 no. double sockets, 6 no low energy led down lighters and a double switch and permanent heating outlet
Heating
A 1Kw electrical panel heater provides your heating source and is enough to keep your room cosy.
Laminate Floor
We will fit a laminate floor you supply
(Fixed Width)
Option 1
2.4 x 3.6 internal dimension 8.64 m2 (size as illustrated above)
€ P.O.A
Option 2
2.4 x 4.35 internal dimension 10.4 m2
Door width increase from 1500mm to 1800mm
€ P.O.A
Option 3
2.4 x 5.1 internal dimension 12.24 m2
Door width increases from 1800mm to 2100mm and includes two additional led down lights (8 no.)
€ P.O.A
Optional Upgrades ( excluding vat price + 20% + vat @ 13.5% )
Upgrade your door and window to aluminium clad timber with the aluminium in a colour of your choice
Upgrade the roof kerb to aluminium and match the colour to your door
Frequently Asked Questions Go Back
What is included in the price?
Our prices includes a full installation service, though excluding excessive preparatory site clearance if any.
The only other requirement is a power supply cable laid to the garden room to connect electrical power from the meter box to the garden room consumer unit.
Do I need planning permission?
All our Garden rooms are 25 sq metres (270sq ft) or under in floor area. This means they fall within the exempt category of the planning laws. Exempt development is any development for which planning permission is not required. However it is possible that you have used up some or all of your 25 sq meters already in your garden. We will be happy to carry out a site visit and advise you on your planning exemptions.
Ultimately it is your responsibility to ensure that the building of the garden room on your site complies with planning regulations. For full details on the Irish Planning Regulations check out http://www.irishstatutebook.ie/2001/en/si/0600.html
What are my options for internet access, phone and fax services?
The simplest, and usually cheapest, way to get internet and phone access to your building is to use a wireless router and a dual cordless phone. Instead of using a traditional fax machine there are many software applications available that allow you to send and receive faxes using your internet connection.
Alternatively you can run a telephone cable to your garden room from the external junction box of your dwelling.
What is the waiting time from date of order?
Our fully trained, professional and customer focused team will carry out the installation in a surprisingly quick time and with minimum disruption to you and your family. Typical lead time is 4-6 weeks
Does it come with a warranty?
We offer a structural guarantee on all our garden rooms. Normal wear and tear is not covered.
What are the payment terms?
We have three stage payments
Stage 1: Deposit on placing order – 10%
Stage 2: Commence manufacturing – 60%
Stage 3: On Completion – 30%
What do I have to do before work commences on site?
Before we commence work, we will need to agree and mark out the exact location of your garden room in your garden. We also need you to provide power for the tools.
Is my garden damaged during construction?
The short build process minimises the damage to the garden , however some damage is likely to happen
How is the Garden Room heated?
An electric panel heater is more than sufficient to adequately heat the garden room.
What maintenance is required?
The cladding will require maintaining every few years.
Can I get insurance for my garden room?
Most insurers can offer fully comprehensive insurance on the structure and contents of your garden room